Software Development Team
"innovative software solutions"

SQL, mySQL, .NET, C#, Basic, Javascript,
Java, Android, Windows
Software Products
Visitors since 9/1/2012:


FORGET-ME-NOT voice alarm helps you to not lose items
APP will sound a voice alarm – "Did you forget something" - at end of Reset period and at every interval. Alarm shuts off when all check boxes are checked-off. RESET button sets the next scheduled alarm. OFF kills the alarm and schedule-- use at turn off. To start alarm, press RESET.

The Time option will sound the alarm according to the timer interval. When all boxes are checked, "COMPLETED" will show and RESET will be activated. SET TIMER allows for a scheduled alarm in minutes (see choices) before auto-reset of alarm. ALARM INTERVAL allows for frequency (in seconds) of repeated alarms until RESET or COMPLETED occurs.

Get the APP at ALARM
Destination: Earth (1993) ""Life is a box of chocolates ". . . is now being "modernized" and developed as an instructive 'game of life',
a game of real life events and not a child's board game.
"Life Goes On" (2011)
Does life end after high school? NO! What will you do or become? Do you have what it takes to make millions? Find out!!! EXPLORE your destiny -- your future life alternatives. Play Life Goes On Simulator and find out now!
Marry? Children? Make millions? Be a success, or failure? Encounter a disabling illness? Who knows? But, what can YOU do about it? Take charge of your life, that's what! You make your own decisions, react to life's events, and accept what life has to offer.
Scores and Progress Charts record your success are provided. Compare with friends. Lead multiple lives – simulator allows for more than one player.
A unique, serious educational simulation of growing up in America. Appropriate for your teens, the ones that can't be told anything! Know the feeling? Let your teen play the game and see for himself/herself what Life may await them. Can be played by more than one player, or the teen who wants to experience "alternate selves". "Life scores" — success in Life — are available based on several criteria, and not financial status alone.
Version SP 1.2, Release 6, is targeted for the 4" smartphones using Android (Motorola, Samsumg, HTC, etc) plus tablets has enhanced CRISES incidents
-- drugs, accidents, aids, cancer, HOA fines/court. .
Sample early displays from the Android TAB work-in-progess LifeGoesOn. See short description.

To get the APP, visit Google Play.
Post comments to the Facebook LifeGoesOnSim page above. Recommend this site by pressing the "g +1" button.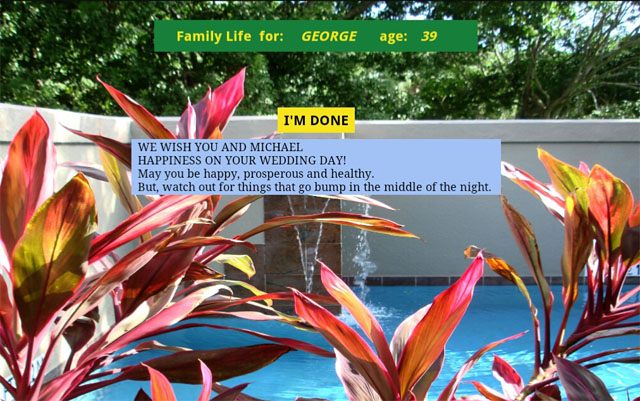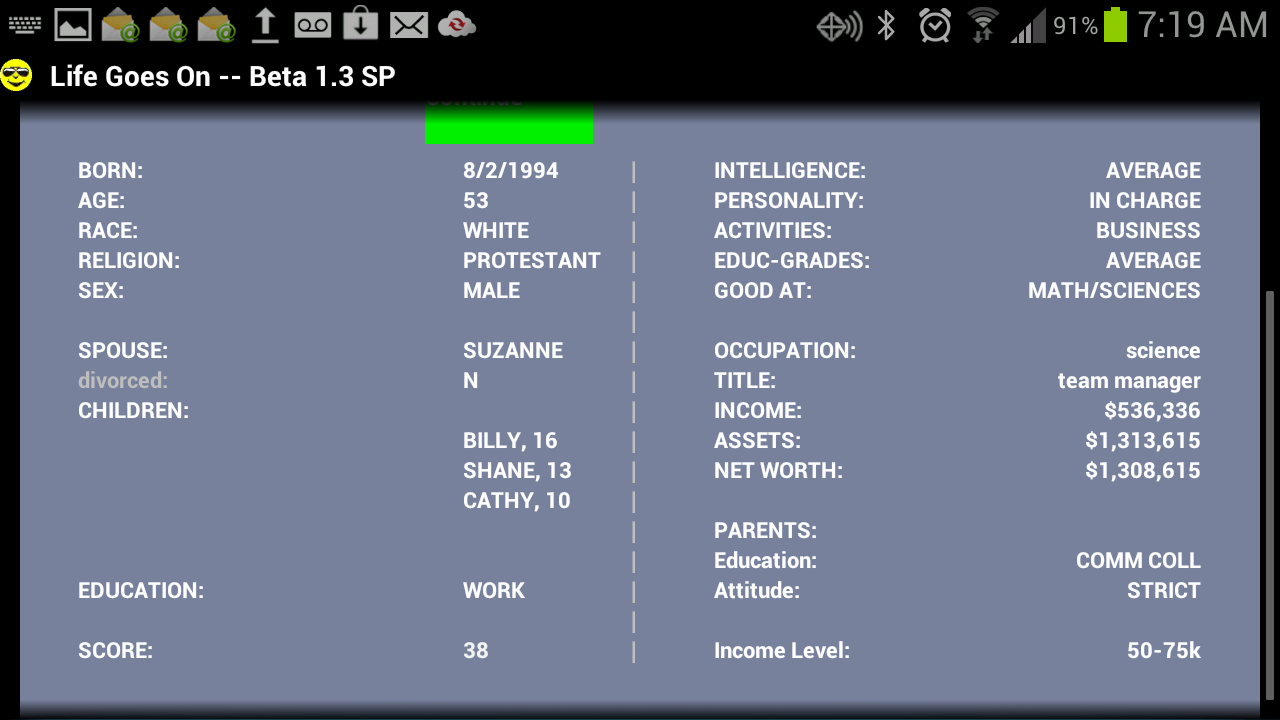 Life Goes On! is in development
"

"Finally, an intriguing entry ... a software program called Destination: Earth ... I encourage my more computer-literate readers to give it a try.

"


The Value of Family: A Blueprint for the 21st Century (1996), by Dr. Ruth Westheimer and Ben Yagoda.
---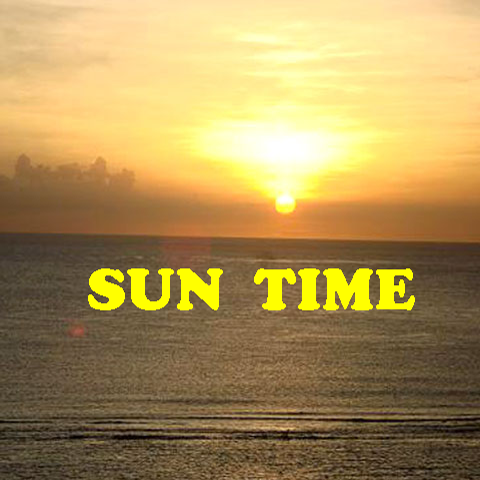 Where is the sun? Discover your "solar noon time", which is not noon on your clock. Where is the sun at sunrise? Or at sunset? Educational - geography, astronomy - fun for all ages. (Blackberry images - outdated).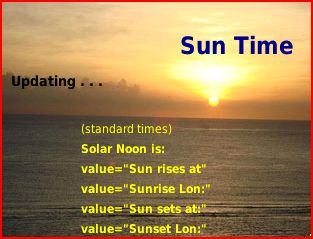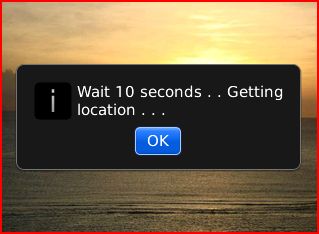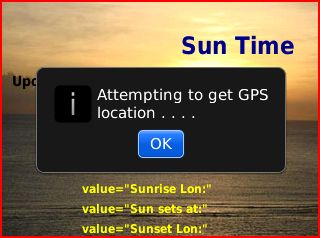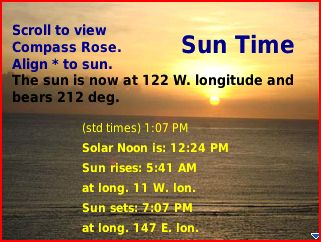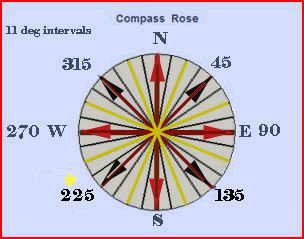 This APP explores the world of astronomy and celestial navigation. It lets you know where you are in terms of latitude and longitude (not a new idea), where the sun is at the current time (yes, I know, in the sky) and where it is at sunrise and sunset (yes, I know, on the horizon).

BUT, just where on the earth is the sun located? Aren't you curious? At what meridian (longitude) is the sun directly above at those times? Suntime also tells you at what time on your watch the sun will be directly over your head, which most commonly will not be noon on your watch.

Didn't you want to know these things about life? Suntime takes the mystery away. Don't worry, a glossary is provided.

Suntime has serious uses that are fun to discover: finding North and telling time.
Download the Suntime manual for further explanation and glossary: Manual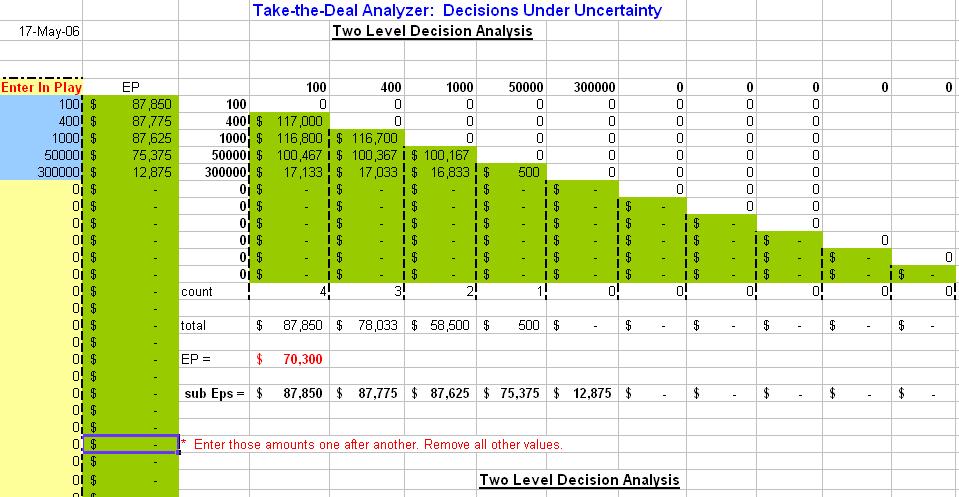 Take-the-Deal Analyzer shows you the expected payoffs needed to decide whether or not to take the Deal in the hit TV show, Deal or No Deal. Some knowledge of gambling odds needed. Not affiliated with the show or NBC. For more information, see Take-the-Deal.


/ SQL v 5.0 LETS YOU ENTER DATABASE QUERIES IN PLAIN ENGLISH!
Create complex searches quickly and easily.
StarMan's PE/SQL software allows non-technical users to access a database using english statements without having to understand complex relational database concepts. Easily creates compound conditional searches, instead of gobbly-de-gook like "Find A > 20 and B = 40 and C between 1 and 2". Available as internet ASPX page under Microsoft's .NET framework
Go read about PE/SQL


StarMan Ratings
Buyer Cash Flow / Sensitivity Analysis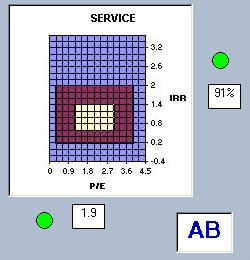 A BCF/SA financial analysis can help find the right combination of price, down and terms to produce a structure that has over an 80% chance of selling.
Uses an advanced financial analysis method that helps structure business sales, based on 13 years experience as a business broker and 9 years of actual business sales statistics
read about this unique approach

Take a look at my software Resume?
StarMan Group, Surprise, AZ 85374, 602-228-2891(voice) / george@starman.com