Homeowner Associations
Video - News Presentations
April 7, 2006
The following audio - video files have been prepared as educational segments that discuss important issues and events. The media has for years demonstrated a lack of interest in homeowner associations, regardless of the affects on our constitutional rights and freedoms, and the governmental support and protection of the essentially undemocratic, private government of planned developments.
These files are geared to downstreaming players like WIndows Media Player that accept MPEG4 formats. They are kept to less than 15 minutes in duration, but viewing will commence in less than 3 minutes as a result of the "streaming" process.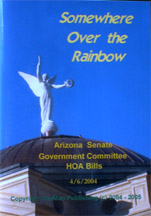 Somewhere Over the Rainbow -- A DVD (-R format) documentary of the HOA reform bill hearings by the Arizona Senate Government Committee on April 6, 2004. Hearings on a foreclosure and a due process bill are shown. (40 minutes).
ISBN-13: 978-0-9744488-2-4 / ISBN-10: 0-9744488-2-6
Homeowner Rights Advocacy 2006 DVD Series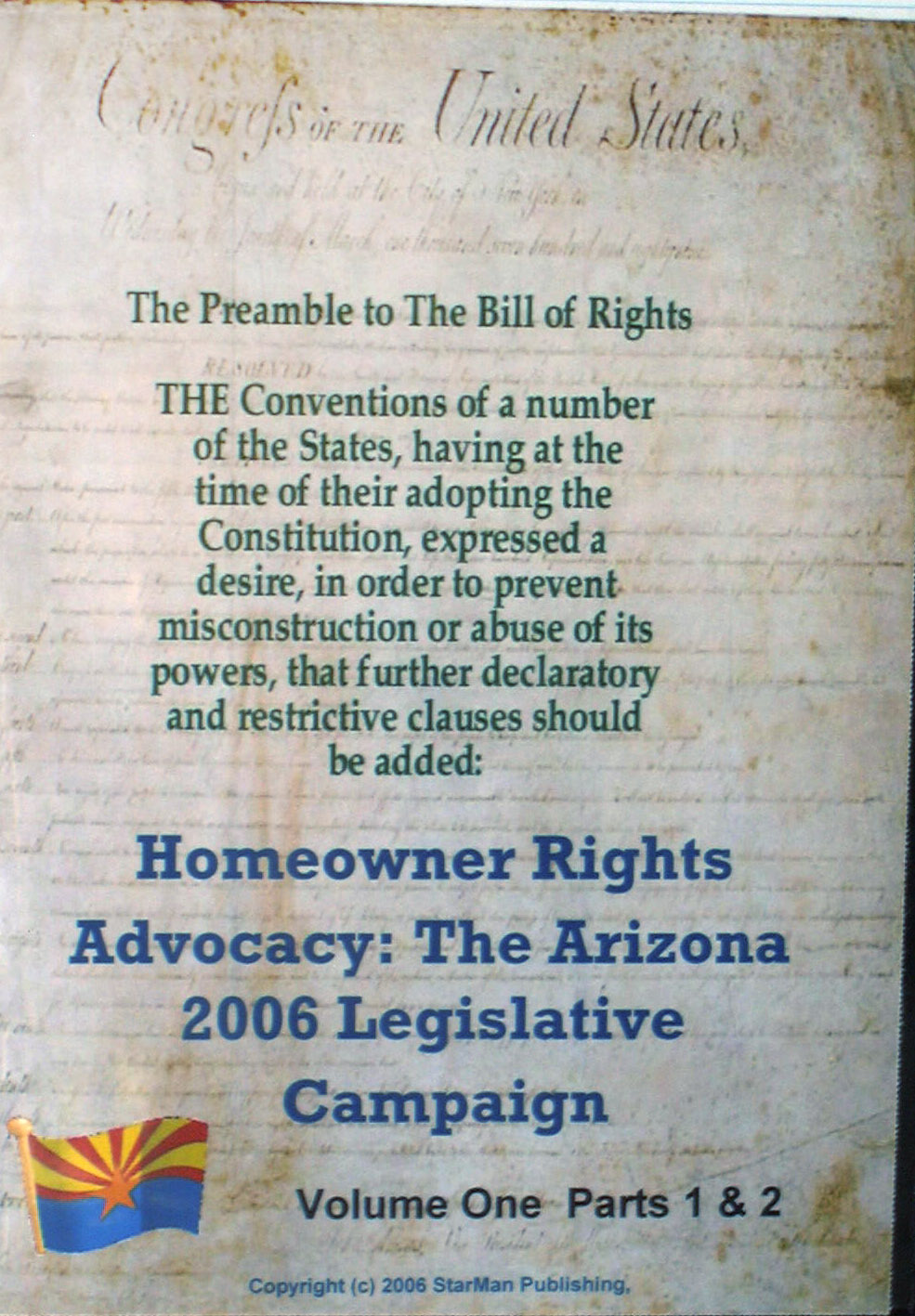 Vol. 1, Arizona, 2 DVD set (116 minutes) Homestead Exemption and Foreclosure limitation bills before the Arizona Legislature.
Vol. 2, Texas, 2 DVD set (120 minutes) Texas Legislative hearing on HOAs and proposed uniform community associations act, TUPCA, of March 31, 2006. (Less than DVD quality).
To select a video or audio, just click on the file name. To obtain a Word DOC transcript, click on "transcript".
DATE
FILE
transcript

Topics and Issues discussed

March 7, 2006
AZ Rules Committee
Rules
NO
CBS TV, Phoenix KPHO, news clip on Rule Committee holding substantive HOA reform bills. 3 min.
Jan - Mar 2006
CBS_TV news AZ HOA bills
HOA Bills
NO
News videos from KPHO.com, CBS TV in Phoenix, covering the status and progress of Arizona HOA bills. 5 min.
April 6, 2004
Farnsworth - HB2402
foreclosure
NO
Video of Rep. Farnsworth's position on his foreclosure bill, April 6, 2004 Arizona Government Committee hearing (12 min).
April 13, 2004
"Over the Rainbow"
Narrrative only .DOC
DVD of April 6, 2004 Arizona Government Committee hearing on HOA foreclosure/liens and penalties bills is available. 40 minutes.
Feb. 9, 2004
audio mp3
NO
Local Phoenix Area Fox 10 News interview on HOA bills.
Feb. 25, 2003
audio mp3
NO
Arizona Legislature Senate Government Committee hearing on HOA bill to remove draconian foreclosoure measures.
Oct 27, 2002
vn2
NO
Discusses constitutional questions, lobby, legislative reform vs. court complaints and social change movement
Nov. 7, 2002
vn3
YES
Emphasis on the failure of our government to tell homeowners the truth about living in an HOA and the potential to disrupt the financial status of homeowners who are currently pleased with their HOA governance.
Dec 23, 2002
mckenzie_organize
NO
Prof. Mckenzie's segment from On The Commons on the need for advocates to organize and the obstacles to success. (10 min. audio).
With Liberty and Justice Forever-- A Video CD documentary of the April 21, 2004 HOA debate in Green Valley, AZ (34 minutes).

Note: A Video CD can be played on certain DVD players and by Windows Media Player on your PC. For WMP, click on File, then you need to click on MPEGAV folder and then click on MUSIC01.DAT.

Available CDs/DVDs Just $7.00 to cover all costs. (see books order information for books).

Return For book and ebook publications